achieve measurable results with new website and digital outreach
crafting business website that converts, and design digital marketing strategies that keep customers coming back again and again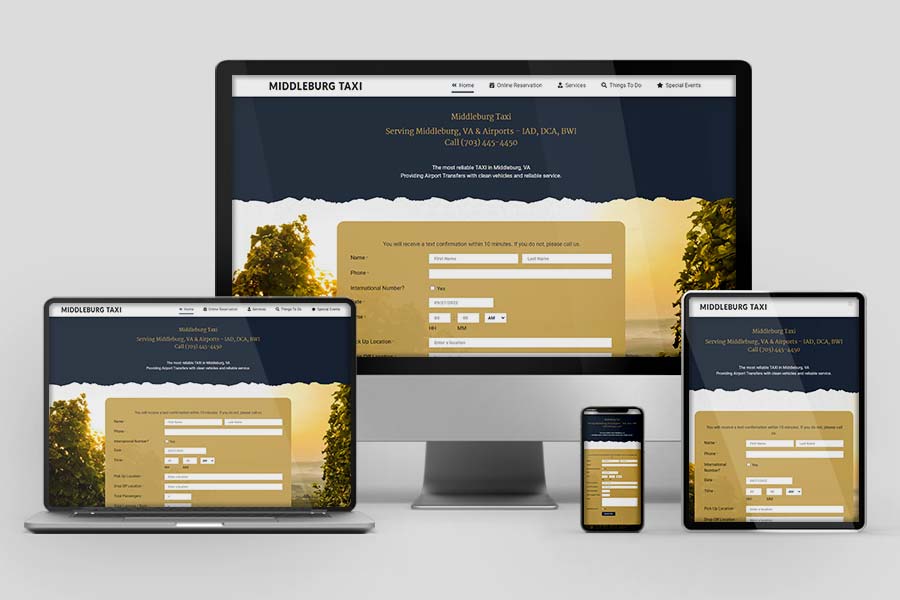 Case Study:
Middleburg Taxi
Middleburg Taxi began providing a taxi transportation service in Middleburg, Virginia in the early 2019s which grew into a larger fleet. They always go out of their way to ensure that their clients have a great experience and get to their destinations safely. Now, they're providing transportation for guests coming to resorts, hopping wineries, and weddings in Middleburg.
Share this Small Business!
1. Business Website:
Challenges & Solutions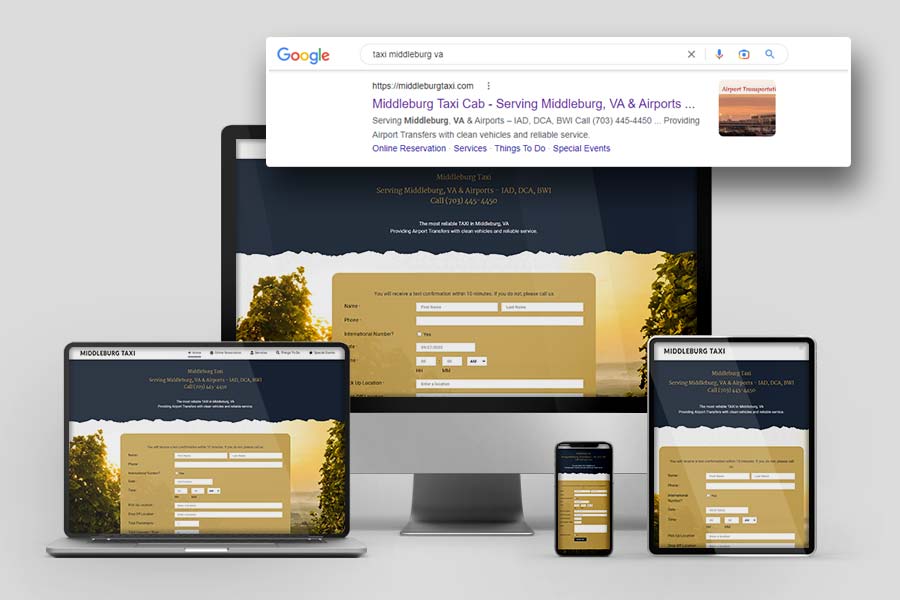 Website Visibility
Challenge:
Middleburg Taxi is a local business, so company is struggling with website visibility locally in the city. Due to this, some have even gone out of business.
Solutions:
Brand new website with optimized SEO (Search Engine Optimizing], and visually appealing graphics and imagery of Middleburg city with rich content.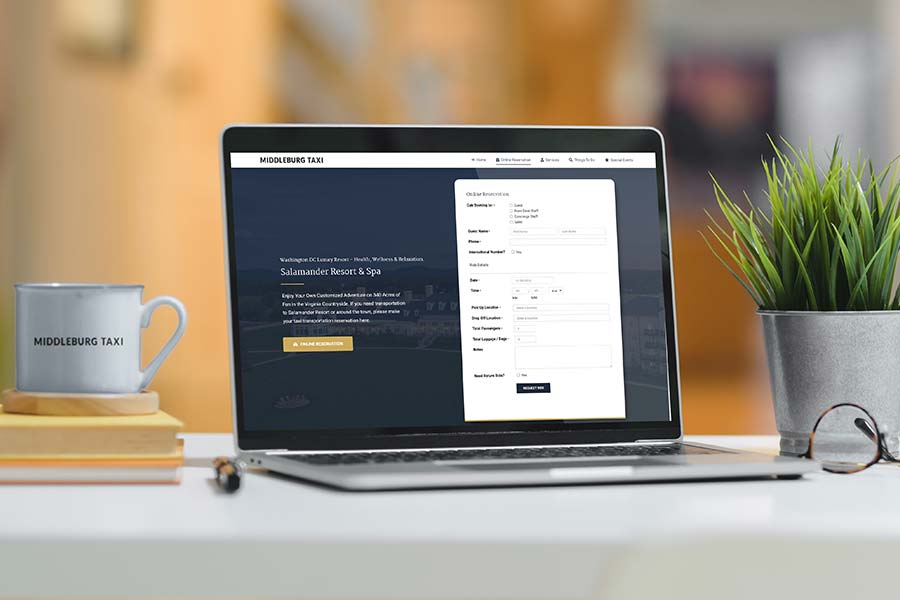 Online Reservation Form
Challenge:
Form is not user-friendly, and guests would have to call the business number anytime they need to reserve a cab.
Solutions:
Integrated a form within the website that was streamlined and easy to use for guests to request transportation within Middleburg. Company can also upsell their executive car service by allowing guests can also conveniently request winery tour transportation, wedding transportation, and airport transportation using the advance integrated form.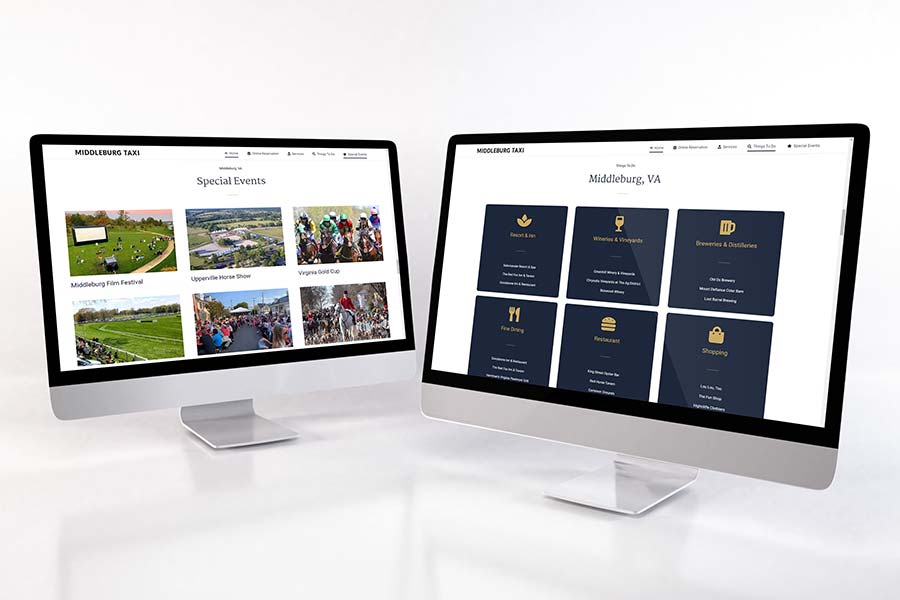 Content & Imagery
Challenge:
Business site isn't producing quality traffic or leads due to outdated and irrelevant images throughout the site. Some guests would not reserve a cab due not enough of local content of Middleburg, which isn't building trust in the taxi business.
Solutions:
To help potential clients understand what the business provides, we setup content rich pages, local business pages, blogs about local events happening, discussing wedding venues, showcasing local wineries in the area, and creating gorgeous videos of most popular places to visit in Middleburg.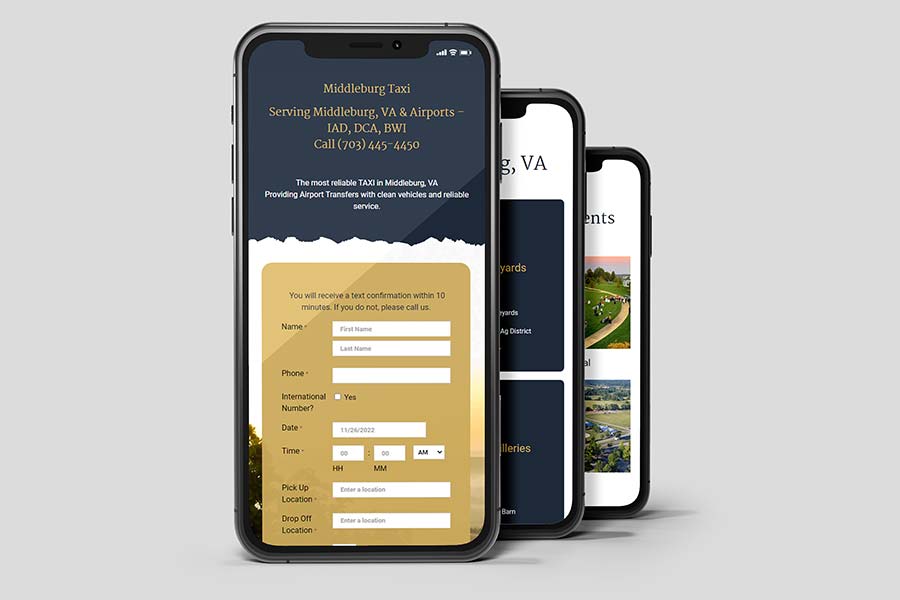 Mobile Friendly
Challenge:
Guests cannot make any reservation via their mobile device. Guests have to call the company so they can collect necessary information for rides. This is costing the company their valuable time and money!
Solutions:
Made their website mobile friendly, which helped them schedule rides quicker and also send those bookings in their calendars. Guests would also receive booking confirmations instantly, which meant no more dropped bookings. Banish phone tag!
2. Digital Presence:
Digital Brochure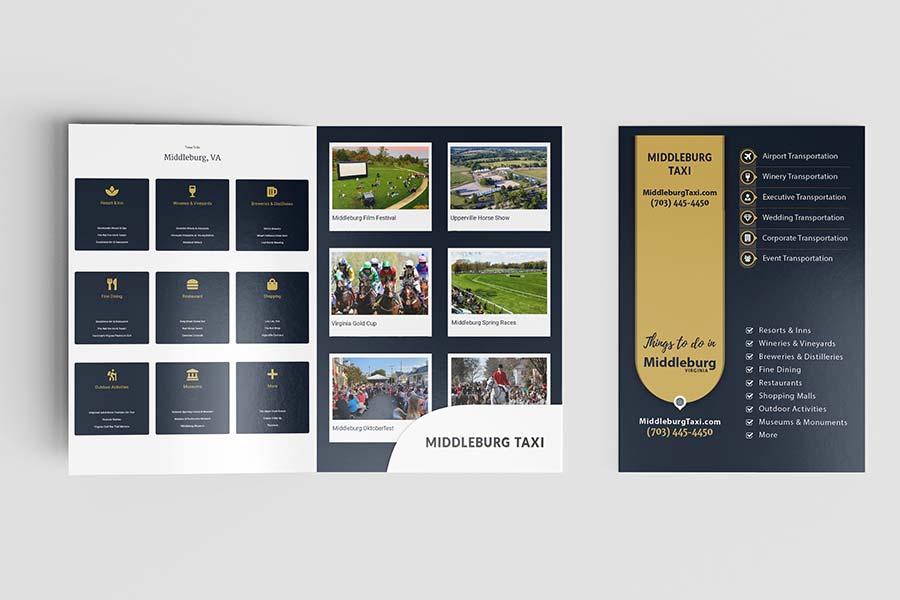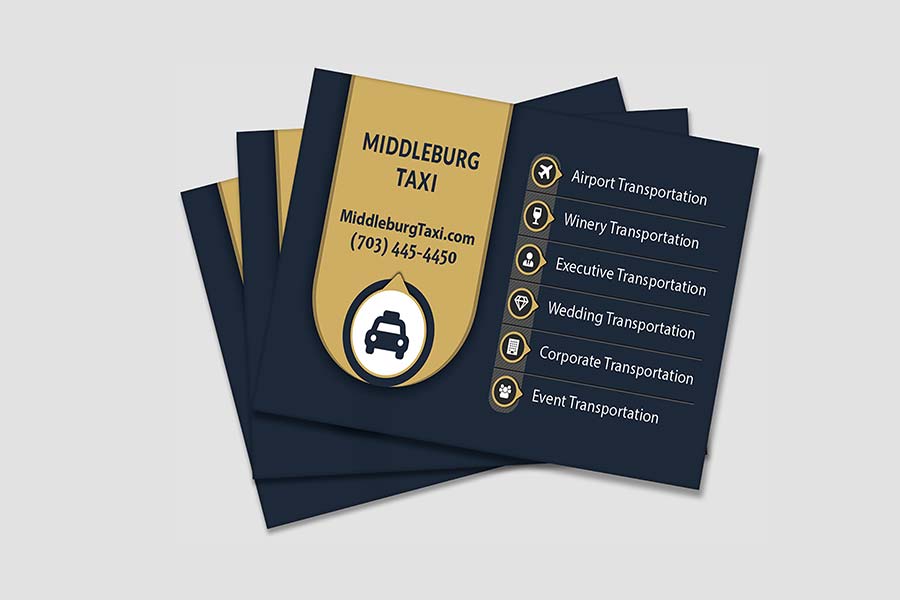 Digital Brochure
Landscape & Portrait Brochure
Challenge:
Middleburg Taxi don't not have proper business marketing collateral or digital brochure to explain services that are currently provided by Middleburg Taxi. Their clients often ask about which other services do they provide.
Solutions:
We together created a gorgeous but gated digital brochure for the client to use. This newly branded digital brochure shows their customers the services that are provided by Middleburg Taxi. It includes popular places to visit, most popular activities, favorite restaurants, experience at the Salamander Resort, and various other nuggets. Guests can also get information on transportation pricing, benefits of using this service, and hours of operation.
3. Digital Presence: Paid
Social Media
Campaigns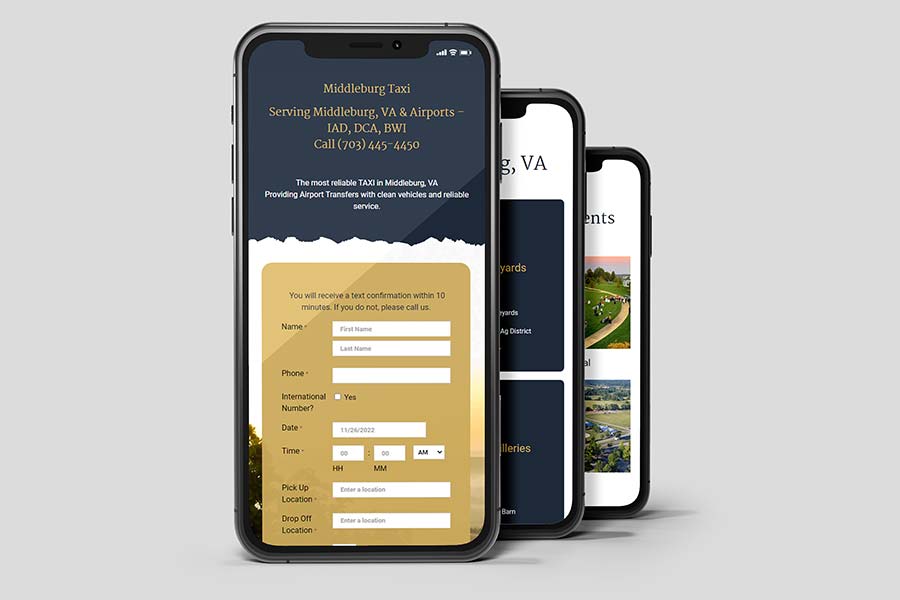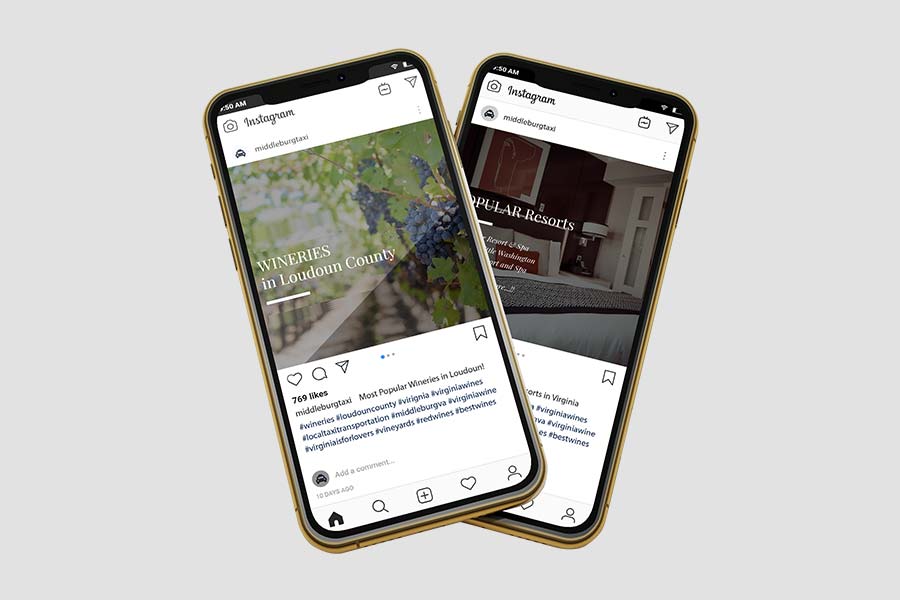 Facebook & Instagram
Challenge:
Without a strong social media presence, the business is missing out on hundreds of potential customers each month. Middleburg Taxi wanted to get results with an affordable paid campaign.
Solutions:
We setup the entire social media game plan, which started off with their organic content, and then strategically scheduled ads to their target audience in a way that resonates with them and brings them closer to using Middleburg Taxi when they're in Virginia! We helped them understand the key factors needed for social media marketing to get good results, provide content strategy and customize budgets so they can stay ahead of the curve.
Conclusion & Our Thoughts
Middleburg Taxi is a small business in Middleburg, VA that's ready to grow. By investing in a new website, digital brochure, and social media game plan they will be able to attract more customers and get more recognition they deserve. Getting your brand into the hands of new customers is the best way to grow your business. We loved working with Middleburg Taxi, as they are so excited about their new website and digital brochure. They now have a highly responsive and mobile-friendly website, a completely redesigned digital brochure that people can access from anywhere, and we even helped them plan a social media marketing strategy that aligns closely with their company's goals. Middleburg Taxi invested in their digital presence, and we can see that it was well worth it!
Share this Small Business!